Posts for: June, 2015
By Dr. Schneider Dental Care
June 16, 2015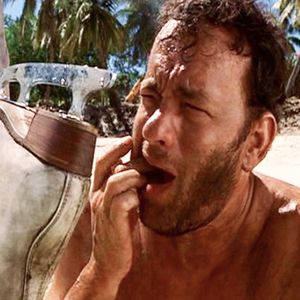 Did you see the move Cast Away starring Tom Hanks? If so, you probably remember the scene where Hanks, stranded on a remote island, knocks out his own abscessed tooth — with an ice skate, no less — to stop the pain. Recently, Dear Doctor TV interviewed Gary Archer, the dental technician who created that special effect and many others.
"They wanted to have an abscess above the tooth with all sorts of gunk and pus and stuff coming out of it," Archer explained. "I met with Tom and I took impressions [of his mouth] and we came up with this wonderful little piece. It just slipped over his own natural teeth." The actor could flick it out with his lower tooth when the time was right during the scene. It ended up looking so real that, as Archer said, "it was not for the easily squeamish!"
That's for sure. But neither is a real abscess, which is an infection that becomes sealed off beneath the gum line. An abscess may result from a trapped piece of food, uncontrolled periodontal (gum) disease, or even an infection deep inside a tooth that has spread to adjacent periodontal tissues. In any case, the condition can cause intense pain due to the pressure that builds up in the pus-filled sac. Prompt treatment is required to relieve the pain, keep the infection from spreading to other areas of the face (or even elsewhere in the body), and prevent tooth loss.
Treatment involves draining the abscess, which usually stops the pain immediately, and then controlling the infection and removing its cause. This may require antibiotics and any of several in-office dental procedures, including gum surgery, a root canal, or a tooth extraction. But if you do have a tooth that can't be saved, we promise we won't remove it with an ice skate!
The best way to prevent an abscess from forming in the first place is to practice conscientious oral hygiene. By brushing your teeth twice each day for two minutes, and flossing at least once a day, you will go a long way towards keeping harmful oral bacteria from thriving in your mouth.
If you have any questions about gum disease or abscesses, please contact us or schedule an appointment for a consultation. You can learn more by reading the Dear Doctor magazine articles "Periodontal (Gum) Abscesses" and "Confusing Tooth Pain."
By Dr. Schneider Dental Care
June 01, 2015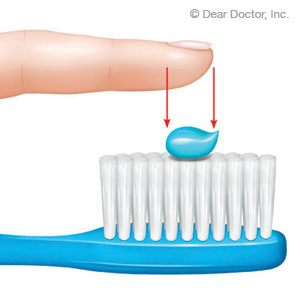 In your search for the right toothpaste, you're inundated with dozens of choices, each promising whiter teeth, fresher breath or fewer cavities. Cutting through the various marketing claims, though, you'll find most toothpaste brands are surprisingly alike, each containing the same basic ingredients. Taken together, these ingredients help toothpaste perform its primary task — removing daily bacterial plaque from tooth surfaces.
Here, then, are some of the ingredients you'll find — or want to find — in toothpaste.
Abrasives. A mild abrasive increases your brushing effectiveness removing sticky food remnants from teeth. And unlike the burnt, crushed eggshells of the ancient Egyptians or the brick dust used by 18th Century Brits, today's toothpaste abrasives — hydrated silica (from sand), calcium carbonate or dicalcium phosphates — are much milder and friendlier to teeth.
Detergents. Some substances in plaque aren't soluble, meaning they won't break down in contact with water. Such substances require a detergent, also known as a surfactant. It performs a similar action as dishwashing or laundry soaps breaking down grease and stains — but the detergents used in toothpaste are much milder so as not to damage teeth or irritate gum tissues. The most common detergent, sodium lauryl sulfate, is gentle but effective for most people. If it does cause you irritation, however, you may want to look for a paste that doesn't contain it.
Fluoride. This proven enamel strengthener has been routinely added to toothpaste since the 1950s, and is regarded as one of the most important defenses against tooth decay. If you're checking ingredients labels, you'll usually find it listed as sodium fluoride, stannous fluoride or sodium monofluorosphosphate (MFP). And since it inhibits bacterial growth, fluoride toothpastes don't require preservative additives.
Humectants, binders and flavoring. Humectants help toothpaste retain moisture, while binders prevent blended ingredients from separating; without them your toothpaste would dry out quickly and require stirring before each use. And, without that sweet (though without added sugar) and normally mint flavoring, you wouldn't find the average toothpaste very tasty.
The ADA Seal of Approval. Although not an ingredient, it's still sound advice to look for it on toothpaste packaging. The seal indicates the product's health claims and benefits are supported by the research standards set by the American Dental Society; and all ADA approved toothpastes will contain fluoride.
If you would like more information on toothpaste and other oral hygiene products, please contact us or schedule an appointment for a consultation. You can also learn more about this topic by reading the Dear Doctor magazine article "Toothpaste: What's in it?"