Posts for: July, 2016
By Dr. Schneider Dental Care
July 20, 2016
Recurring episodes of severe pain along your face could mean you have trigeminal neuralgia (TN). Although not always curable, TN can be managed effectively with the right strategy.
TN affects a specific pair of nerves called the trigeminal that signal pain in the face or jaws. They originate from the brain stem through the skull on either side of the face, with each nerve having upper, middle and lower branches. TN can affect one or more of these branches and cause anywhere from a mild twinge to excruciating pain.
Causes for TN differ in individual patients. Though it could be linked to a tumor, lesion or cold sore, it most often seems to arise from a blood vessel impinging on the nerve and damaging its outer coating. This causes it to be hypersensitive: chewing, speaking or even lightly touching the face can set it off. The damaged nerve may also fail to "shut off" when the triggering stimulation stops.
If you have these types of symptoms, your first step is to obtain an accurate diagnosis. You'll need a thorough examination to rule out other possibilities like jaw joint problems or a tooth abscess. Once we've determined it's definitely TN, we can then devise a treatment strategy.
We usually begin with conservative measures like medication to block pain transmission to the brain or anticonvulsants that stabilize the nerve and decrease abnormal firing. If medication isn't enough, we may then consider an invasive procedure to control symptoms.
Percutaneous treatment — often recommended for older patients or those in poor health — involves inserting a thin needle into the nerve to selectively damage certain fibers that will prevent the nerve from signaling pain. We might be able to move an impinging blood vessel aside from the nerve with a microsurgical procedure. As an alternative to surgery, high-dose radiation could also be aimed precisely at the pain site with a controlled beam to alter the nerve's ability to transmit pain.
TN can be a source of great discomfort that lowers your quality of life. But employing treatment techniques that best suit your situation, we can greatly reduce the misery it inflicts.
If you would like more information on facial pain caused by trigeminal neuralgia, please contact us or schedule an appointment for a consultation. You can also learn more about this topic by reading the Dear Doctor magazine article "Trigeminal Neuralgia: A Nerve Disorder that Causes Facial Pain."
By Dr. Schneider Dental Care
July 05, 2016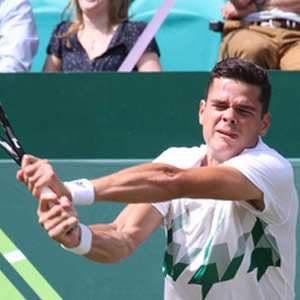 When you're among the top players in your field, you need every advantage to help you stay competitive: Not just the best equipment, but anything else that relieves pain and stress, and allows you to play better. For top-seeded Canadian tennis player Milos Raonic, that extra help came in a somewhat unexpected form: a custom made mouthguard that he wears on the court and off. "[It helps] to not grind my teeth while I play," said the 25-year-old up-and-coming ace. "It just causes stress and headaches sometimes."
Mouthguards are often worn by athletes engaged in sports that carry the risk of dental injury — such as basketball, football, hockey, and some two dozen others; wearing one is a great way to keep your teeth from being seriously injured. But Raonic's mouthguard isn't primarily for safety; it's actually designed to help him solve the problem of teeth grinding, or bruxism. This habitual behavior causes him to unconsciously tense up his jaw, potentially leading to problems with muscles and teeth.
Bruxism is a common issue that's often caused or aggravated by stress. You don't have to be a world-class athlete to suffer from this condition: Everyday anxieties can have the same effect. The behavior is often worsened when you consume stimulating substances, such as alcohol, tobacco, caffeine, and other drugs.
While bruxism affects thousands of people, some don't even suspect they have it. That's because it may occur at any time — even while you're asleep! The powerful jaw muscles that clench and grind teeth together can wear down tooth enamel, and damage both natural teeth and dental work. They can even cause loose teeth! What's more, a clenching and grinding habit can result in pain, headaches and muscle soreness… which can really put you off your game.
There are several ways to relieve the problem of bruxism. Stress reduction is one approach that works in some cases. When it's not enough, a custom made occlusal guard (also called a night guard or mouthguard) provided by our office can make a big difference. "When I don't sleep with it for a night," Raonic said "I can feel my jaw muscles just tense up the next day. I don't sense myself grinding but I can sort of feel that difference the next day."
 An occlusal guard is made from an exact model of your own mouth. It helps to keep your teeth in better alignment and prevent them from coming into contact, so they can't damage each other. It also protects your jaw joints from being stressed by excessive force. Plus, it's secure and comfortable to wear. "I wear it all the time other than when I'm eating, so I got used to it pretty quickly," said Raonic.
Teeth grinding can be a big problem — whether you put on your game face on the court… or at home. If you would like more information about bruxism, contact us or schedule an appointment for a consultation. You can learn more in the Dear Doctor magazine articles "Stress & Tooth Habits" and "When Children Grind Their Teeth."