Posts for: March, 2018
By Dr. Schneider Dental Care
March 30, 2018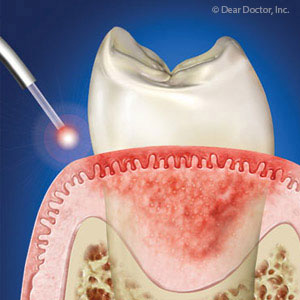 One of the most important revolutions in healthcare in recent decades is the increasing use of lasers. Now, laser technology is making a showing in dental care for the treatment of periodontal (gum) disease.
Lasers (an acronym for "Light Amplification by Stimulated Emission of Radiation") narrowly focus and amplify light within a small area. First developed in the early 1960s, laser technology rapidly advanced in the ensuing decades with more compact and precise devices that were eventually safe and effective for many types of medical procedures. Its remarkable features are now available for the primary focus of gum disease treatment—removing bacterial plaque.
Plaque is a thin, built-up film of bacteria and food particles on tooth and gum surfaces that serves as a haven for the bacteria that cause gum disease. The continuing presence of plaque and calculus (tartar) enables the infection to thrive and advance within the gum tissues, ultimately damaging them along with supporting bone. As the tissues weaken and bone volume diminishes, the teeth are at greater risk for loss.
It's necessary, therefore, first and foremost to remove all detectable plaque and calculus to stop the infection. This is traditionally done with special hand tools called scalers used to manually remove plaque, or with ultrasonic equipment that vibrates plaque loose to be flushed away with water. These procedures can take numerous sessions and may result in some minor post-procedural discomfort and bleeding during the cleaning.
But lasers specifically designed for plaque removal can minimize tissue damage and resulting discomfort. Because the particular laser light used reacts only with plaque and diseased tissue, it can remove them without disturbing nearby healthy tissue usually more efficiently than traditional scaling. Dentists who've used the technology frequently report less bleeding and higher patient satisfaction.
But before lasers for gum disease treatment are widely adopted, the procedure must undergo further scrutiny. Reports from dentists notwithstanding, not enough research studies have been performed to date that meet the necessary scientific criteria. But if the evidence so far from the field holds up, it's quite possible lasers will one day become a regular part of dental practice for treating gum disease.
If you would like more information on treating gum disease, please contact us or schedule an appointment for a consultation. You can also learn more about this topic by reading the Dear Doctor magazine article "Lasers Versus Traditional Cleanings for Treating Gum Disease."
By Dr. Schneider Dental Care
March 15, 2018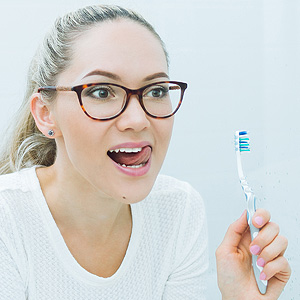 The arrival of spring often serves as inspiration to clean house and create an environment that's bright and fresh. Here at the dental office, we can do the same for your mouth as well! Having clean teeth, healthy gums and fresh breath helps you look and feel your best. Here are some ways we can help you freshen up your smile:
Dental Exam. The best place to start is with a dental exam. Finding and treating tooth decay in its earliest stages will help you avoid more costly and invasive dental treatments later on. It could even save a tooth that might otherwise be lost! Plus, oral cancer screenings are important for everyone—even young, non-smokers. Regular dental exams also give you a chance to bring up any issues you may be concerned about, and to ask for pointers on hygiene.
Professional Cleaning. Having a good oral hygiene routine at home goes a long way towards keeping your mouth healthy. But routine professional cleanings are still very important. Your dental hygienist uses specially designed tools to reach into places where your brush and floss can't, and remove disease-causing dental plaque and tartar. A polishing provides the finishing touch for a squeaky-clean feeling.
Teeth Whitening. Teeth tend to get duller with age; that's why teeth whitening treatments can give you a more youthful appearance. Bleaching your teeth is safest when supervised by a dental professional. We recommend two methods: either a professional treatment at the dental office, or a take-home kit we can provide, which includes custom-fitted bleaching trays. The first way will give you the fastest results, while the second is more economical.
Smile Makeover. Sometimes whitening alone is not enough to fix what's keeping you from flashing a big, bright smile. For example, maybe your teeth aren't straight, or they have been worn down over the years. Perhaps a tooth is chipped or is missing entirely. Or maybe there are multiple cosmetic issues. If this is the case, we can help you figure out what's really bothering you about your teeth and how you can achieve the smile of your dreams.
If you have questions about oral hygiene or cosmetic dentistry, please contact us or schedule a consultation. You can learn more by reading the Dear Doctor magazine article "Daily Oral Hygiene."