Posts for tag: nutrition
By Streamwood Smiles
July 23, 2018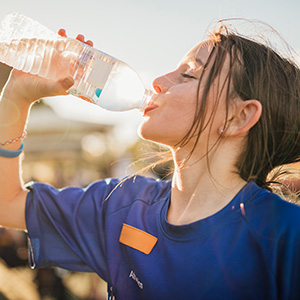 It's easy to work up a thirst in the summer. You might be shooting hoops in the park, riding on a trail or playing volleyball on the beach. No matter what your favorite summertime activity is, outdoor fun can leave you dry—and then it's time to reach for a cold one. But when your body craves hydration, what's the best thing to drink?
The answer's simple: water!
Sure, we've all seen those ads for so-called "energy" and "sports" drinks. But do you know what's really in them? Sports drinks (all of those different "…ades") are mostly water with some sugars, salts and acids. "Energy" drinks (often promoted as "dietary supplements" to avoid labeling requirements) also contain plenty of acids and sugars—and sometimes extremely high levels of caffeine!
Studies have shown the acid in both sports and energy drinks has the potential to erode the hard enamel coating of your teeth, making them more susceptible to decay and damage. And the sugar they contain feeds the harmful oral bacteria that cause tooth decay. So you could say that the ingredients in these beverages are a one-two punch aimed right at your smile.
It's a similar story for sodas and other soft drinks, which often have high levels of sugar. In fact, some popular iced teas have 23 grams (almost 6 teaspoons) of sugar per 8-ounce serving—and a single 24-ounce can holds 3 servings! Many diet sodas (and some fruit juices) are acidic, and may damage your tooth enamel.
Water, on the other hand, has no acid and no sugar. It has no calories and no caffeine. Simple and refreshing, water gives your body the hydration it craves, with no unnecessary ingredients that can harm it. In fact, if you fill a reusable bottle from your own tap, you may not only benefit from cavity-fighting fluoride that's added to most municipal tap water…you'll also be helping the environment by cutting down on unnecessary packaging.
It's best to drink water all of the time—but if you don't, here are a few tips: If you want to enjoy the occasional soda or soft drink, try to limit it to around mealtimes so your mouth isn't constantly bathed in sugar and acid. Swish some water around your mouth afterward to help neutralize the acidity of the drinks. And wait at least an hour before brushing your teeth; otherwise you might remove tooth enamel that has been softened by acids.
What you drink can have a big effect on your oral health—and your overall health. So when thirst strikes, reach for a cold glass of water. It can help keep you healthy this summer…and all year long.
If you would like more information about nutrition and oral health, please contact us or schedule an appointment. You can learn more by reading the Dear Doctor magazine articles "Think Before You Drink" and "Nutrition & Oral Health."
By Dr. Schneider Dental Care
March 31, 2015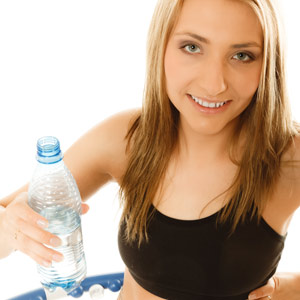 Your teeth's hard, enamel coating protects them from environmental dangers or disease. But although it's made of the hardest substance in the human body, enamel isn't invincible — prolonged exposure to acid can cause dental erosion, a condition in which the enamel's mineral content permanently dissolves, a process known as de-mineralization.
De-mineralization occurs anytime our mouth environment becomes too acidic due to eating or drinking items with high acid content. Saliva normally neutralizes mouth acid in thirty minutes to an hour after we eat, as well as restores mineral content to the enamel (re-mineralization). Danger arises, though, if the saliva's buffering action is overwhelmed by chronic acidity, caused mainly by constant snacking or sipping on acidic foods and beverages throughout the day — in this situation, saliva can't complete the process of buffering and re-mineralization.
As a result, the enamel may permanently lose its mineral content and strength over time. This permanent dental erosion leads to serious consequences: the teeth become more susceptible to decay; the dentin becomes exposed, which causes pain and sensitivity to pressure and temperature changes; and changes in the teeth's size and color can negatively alter your appearance.
It's important to take action then before dental erosion occurs. Along with daily oral hygiene, restrict your consumption of acidic foods and beverages to meal times and cut back on between-meal snacks. Rather than a sports drink after exercising, drink nature's hydrator — water. You should also alter your brushing habits slightly — rather than brush right after you eat, wait thirty minutes to an hour. This gives saliva time to restore the mouth to its normal pH and re-mineralize the enamel. Brushing right after can remove even more of the minerals in softened enamel.
If significant erosion has occurred, there are a number of treatment options we can undertake to preserve remaining tooth structure and enhance your appearance. In moderate cases, we can reshape and cover damaged teeth using dental materials like composite resins or porcelain to fill decayed areas or cover teeth with veneers or crowns.
The key of course, is to identify dental erosion through clinical examination as soon as possible to minimize damage. Your enamel plays a critical role in protecting your teeth from disease — so take the right steps to protect your enamel.
If you would like more information on protecting your enamel, please contact us or schedule an appointment for a consultation. You can also learn more about this topic by reading the Dear Doctor magazine article "Dental Erosion."
By Dr. Schneider Dental Care
July 15, 2014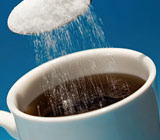 We've all heard about potentially negative health effects from the sugar that's added to many of our favorite foods. So these days, lots of us are trying to cut down on our consumption of sugar — not only to lose weight, but also to help prevent maladies like diabetes and heart disease. We can't help noticing those pastel-colored packets — pink, yellow and blue — on the rack of our favorite coffee shop. But now we're wondering: Are those sugar substitutes a good alternative to natural sugar? And which one should we choose?
Artificial sweeteners have been around for decades. Six different types (including the ones in the colorful packets) are currently approved as safe by the Food and Drug Administration; a couple of older ones (notably cyclamates) have been banned for many years. In addition to those zero-calorie sugar substitutes, low-calorie sweeteners called sugar alcohols (for example, mannitol and xylitol) are often used as food ingredients. So what's the difference between them — and which one is best?
That's not so easy to answer. If you have a rare genetic condition called phenylketonuria, you should avoid aspartame (the blue packet), because your body can't process the substance. Otherwise, the choice may come down to a matter of taste. Even though they are FDA-approved, some controversy (both fact-based and far-fetched) remains about the long-term safety of sugar substitutes, and their usefulness in preventing obesity and other diseases.
Yet it's clear that for some people, the consequences of consuming too much sugar could be much worse. So if you're at risk for diabetes or certain other diseases, sugar substitutes can be an important tool in maintaining a healthier diet. They also have another health benefit: sugar substitutes don't cause cavities. Further, some sugar alcohols (xylitol in particular) have the property of stimulating saliva flow, and have been shown to actually impede the formation of cavities. Oral health is an important (if sometimes overlooked) component of your general well-being, and several studies have pointed to a link between oral and systemic diseases — for example, diabetes and heart disease.
As with so many aspects of our health, there seems to be no "magic bullet" to cure all our diet-related problems. But used in moderation, artificial sweeteners can be a valuable part of the effort to improve our overall health and well-being. For more information on this topic, see the Dear Doctor article "Artificial Sweeteners."