Posts for tag: oral surgery
By Dr. Schneider Dental Care
September 22, 2015
Somewhere between bites during a recent meal, the inside of your cheek found itself in the way of your teeth. You winced with pain at the resulting bite, and while it was sore for a day or two it seemed to heal over. Now, though, you're noticing this same area of your cheek gets in the way of your teeth a lot more often, with more bites and sores.
What's likely happened is that you have developed a traumatic fibroma. When the soft tissues of the inner cheek, lips or tongue heal after being injured, a small bit of fibrous tissue composed of the protein collagen forms like a callous over the bite wound to protect it after it heals. If, however, the process is interrupted by another bite, the fibrous tissue that subsequently forms may be thicker and thus more raised on the surface of the skin. This higher profile makes it more likely the site will be involved in repeated episodes of biting.
If the fibroma continues to be a problem, it can be solved with a simple surgical procedure. A surgically-trained dentist or oral surgeon will remove portions of the fibroma (usually with local anesthesia) to flatten the skin profile, and then close the resulting wound with a couple of stitches unless a laser was used. Any discomfort after the procedure can usually be managed with a mild anti-inflammatory drug like aspirin or ibuprofen, and the site should heal in just a few days to a week.
Although the vast majority of fibromas aren't dangerous, it's routine practice to have the excised tissue biopsied for abnormalities. More than likely the fibroma tissue will be normal; but by having the fibroma removed and examined, you'll gain peace of mind about your oral health. In the process, you'll also eliminate a bothersome and painful problem.
If you would like more information on mouth sores, please contact us or schedule an appointment for a consultation. You can also learn more about this topic by reading the Dear Doctor magazine article "Common Lumps and Bumps in the Mouth."
By Dr. Schneider Dental Care
April 02, 2014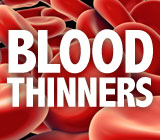 The proliferation of drugs to treat all manner of diseases and conditions has heightened concerns not only about general side effects, but also how a particular drug may affect treatments for other conditions. There are indications, for example, that drugs classified as blood thinners could cause complications for patients undergoing oral surgery.
Blood thinners like Warfarin are typically prescribed to patients with artificial heart valves or who are at significant risk for stroke, heart attack, or the formation of clots that could potentially damage the heart and lungs. The drug reduces the coagulation (clotting) mechanism in blood; aspirin taken regularly should also be considered a blood thinner.
As with any invasive procedure, blood thinners can complicate oral surgery. Blood doesn't clot normally and so bleeding during a procedure is more difficult to stop. This doesn't necessarily mean the surgery can't be performed. For one thing, many oral procedures like tooth removal involve little trauma to tissues and bleeding in the hands of a careful and experienced surgeon. The surgeon can also use hemostatic agents during surgery that will stabilize blood clotting, as well as suturing the incision in such a way as to reduce bleeding from surface capillaries. In the case of a tooth extraction, a bone graft placed within the empty socket not only reduces bone loss from a missing tooth, but can also enhance bleeding control.
In consultation with your medical doctor, it's also possible to temporarily stop or reduce your medication dosage in anticipation of a pending oral surgery. While it may not be safe to stop the drug altogether, a reduced dosage can ease the anti-coagulant effect and reduce any complications from bleeding that might occur during the surgery. You can then resume normal dosage soon after the procedure.
During your pre-op examination, it's important to let your surgeon know about any drugs you are currently taking, including over-the-counter drugs like aspirin. The oral surgeon will then be able to take the necessary steps, including working with your medical doctor, to ensure your surgical procedure is safe and uneventful.
If you would like more information on oral surgery precautions while taking blood thinners and other medication, please contact us or schedule an appointment for a consultation. You can also learn more about this topic by reading the Dear Doctor magazine article "Oral Surgery & Blood Thinners."