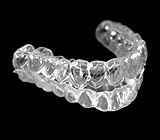 Your braces have finally been removed and you've unveiled your new smile to the world. You're finished with orthodontics — right?
Not quite. If you want to "retain" your new smile you'll need to wear a retainer appliance: depending on your age and which teeth were moved, that could be for several months or even indefinitely.
Retainers are necessary because of how teeth naturally move within the mouth. Although your teeth may seem rigidly set in bone, they're actually held in place by an elastic tissue called the periodontal ligament. This tissue is quite dynamic in response to biting forces or even normal tooth wear. When forces are applied to a tooth, it's the ligament that transmits pressure against the teeth to gradually move them to a more accommodating position. In response, the bone resorbs (dissolves) on the side of the tooth moving toward the new position while laying down new growth on the other side. This bone growth will help anchor the tooth in the new position.
Braces use this natural process to gradually move teeth; both the ligament and bone will reform as needed. But this reforming process takes time. Furthermore, there's a natural balance between the teeth, the tongue and the lips and cheeks. Although the new position created by orthodontics may be more aesthetically pleasing, it may disrupt the natural balance of these surrounding muscles. The influence of habits like clenching or grinding of your teeth may also disturb the new tooth position. The natural tendency is to revert back to the original tooth position.
We use retainers to prevent this reversal. Nearly all orthodontic patients will initially wear them all the time, and for younger patients this may be reduced to wear only during sleep time. Total wear time usually lasts a minimum of eighteen months, until the bone and ligament have fully reformed.
For older patients, though, retainer wear may need to continue indefinitely to prevent "relapse." In these long-term cases another option to a removable retainer is to permanently bond thin retainer wires to the inside surfaces of the front teeth. The wires can remain in place for several years and are much less noticeable than a removable retainer.
While retainers are often considered inconvenient, they're absolutely necessary for preserving the results of orthodontic treatment. In the end they'll help you keep the form and function of your new smile.
If you would like more information on orthodontic retainers, please contact us or schedule an appointment for a consultation. You can also learn more about this topic by reading the Dear Doctor magazine article "Why Orthodontic Retainers?"